Rug vs. Fido
Rug vs. Fido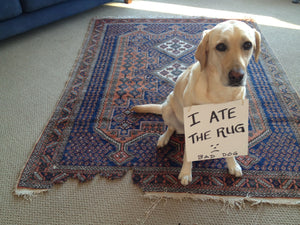 This problem has been gnawing at us!
              Imagine coming in and taking off your shoes and just as you look down…oh no! Part of your rug has disappeared and Fido is hiding so that you will hopefully find someone else to blame because after all he did not know that was going to happen.
              Now your heart sinks because this scenario seems to be without a happy ending. But that is where Oriental Rug Palace comes in. We have been able to repair the majority of "chewed up" rugs brought to us. We are repair guru's, our team has been working magic on damaged rugs for over 30 years and has seen and fixed it all!!
Is the damage not concentrated to the edge of your rug, don't despair. We have waved our magic needle and has reconstructed a rug that Fido was trying to bury his bone under.  That's right, a hole was "dug" into the center of the rug.
So, if you find yourself with pet generated damage take a deep breath bring it to Oriental Rug Palace and you will be amazed at what we can do!