FLOWER POT ON HANDMADE RUGS?
FLOWER POT ON HANDMADE RUGS?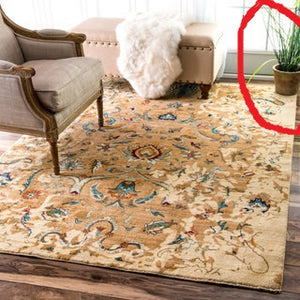 Do you have a flower pot sitting on your Rug?
If your answer is YES, then it is definitely a major concern that requires your instant attention!
Placing flower pots on your rug and watering it daily can deteriorate it to a greater extent.
Alas..!! Isn't it devastating to see your expensive rug like this just because of placing a flower pot on it?! Don't worry! We can fix it!!
Handmade rugs are very beautiful and they involve a lot of manual effort as they would be crafted with perfection which makes them look sophisticated and luxurious. There are numerous types of fabric used in this process.
Placing the flower pot on any handmade rug and watering them on a regular basis makes the rug soggy and that eventually rots it. The above picture illustrates the damage caused due to a flower pot. The fibres are undoubtedly durable but they cannot withstand these kind of extremities. 
The Oriental Rug Palace (ORP) has been doing a pioneering restoration for these damages since 30 years.
Here's how the mystical restoration is done at the ORP!
Step 1: The damaged part is removed in the squared pattern.
Step 2: This void is then filled with the fabric material which is exactly identical to that of the Rug. It is sewed by hand.
Step 3: The design on the pattern is drawn by hand.
Step 4: This pattern in the void is later dyed with the color ensuring that it is in close contrast to that of the rug.
If you compare the damaged picture with that of the last stage's picture, the result is incredibly stunning!
Thus, getting the rug repaired at the ORP is a sheer delight. They can fix every flaw irrespective of the severity of the damage!